Soul food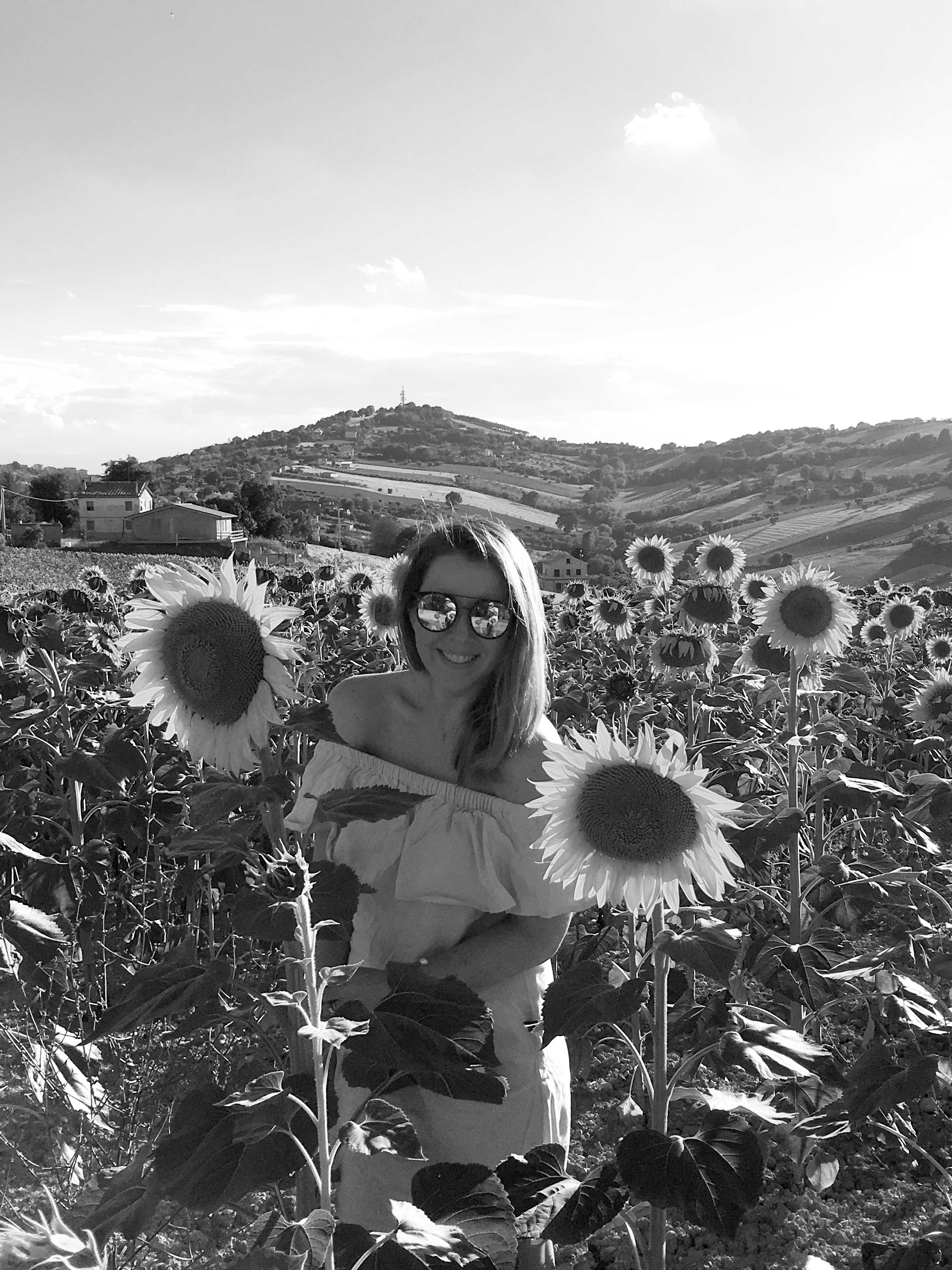 My parents often retreat to their place in the countryside to escape the rush of city life. I love Sydney, but I understand why they do this. There's nothing else quite like the country air to refresh the soul… add 'Italian' to that sentence for us this week and, well, that's all the more appealing!
If you look at Italy as the boot, we're currently staying in the calf – the region of Marche (pronounced 'markeh'). As Wikipedia says, Marche is 'known for its shoemaking tradition, with the finest and most luxurious Italian footwear being manufactured in this region.' More on the relevance of that shortly.
We've spent the weekend in Fermo – a beautiful town set high up on a hill, surrounded by sunflower fields with views of the Adriatic Coast and Apennine Mountains – and it certainly has been the perfect place to unwind. After a couple of hectic weeks, we have welcomed these two days of rest. Don't get me wrong – we've enjoyed every moment of our trip thus far. However, with countless late nights away, only a week to plan it all, having to adjust to jet lag, Andrew being on conference and me working on client freelance work remotely for most of the first week… it's been pretty exhausting. Plus, we just had to pack in as much sight seeing as we could in every spare minute…
But this weekend has been about rest… taking time out, to breathe it all in and reset. Sure, we are on a working trip, but it can't be all work. You can only go so far in top gear before you wear out. Would I wear my favourite shoes all day everyday for months on end and then expect them to still be in perfect condition? No. It's the same for our bodies, we have our limits. We are designed to rest after our hard labour, to ensure we last the distance… oh, and of course we need to make time to play as well.
So I'm not feeling at all guilty for stopping for pizza and gelato after strolling the ancient cobblestoned streets of Fermo… or for sipping on Aperol Spritz in the late afternoon sun and enjoying the gentle mix of ocean breeze and country air washing over me.
I've been able to spend these moments reflecting on this whirlwind of an adventure and the enormity of the dream that I'm pursuing. I'm not sure if that counts as relaxing though, as it's pretty daunting…
Speaking of… tomorrow is the first day where it all starts to come together. It's probably no surprise by now that being in Italy – and with my description of Marche above – I'm here to visit to a local shoe manufacturer. It's not just to see what they can offer, either… they actually have my very first prototype waiting! It's a combination of my design and their generations-old manufacturing expertise… I'm more than a bit nervous but I can't wait to see it, hold it, and even try it on (of course I had it made in my size…)
I guess it's time to strap myself in for the next big chapter of this journey… and I will definitely be sharing the updates with you tomorrow after the meeting.
Follow the Journey
I'd love to share with you what inspires me and what I learn along the way… Join me?